If you're looking for a bit of magic in your sight word instruction, you're in the right place! 
The real magic, of course, comes from HOW you teach high-frequency words. 
And spoiler alert – successful word instruction has everything to do with leveraging the power of orthographic mapping. We will tell you more about orthographic mapping in upcoming posts in this series. 
But let's face it.  There are lots of words in the world and lots of lists of high-frequency words floating around. So, before we can even teach the first lesson we have to decide…
Which words are most important to zoom in on? After all, time is precious! 
Well, our favorite research-backed list is what we've come to call 109 Power Words.
We highlight this list in Shift 4 our book, Shifting the Balance (Stenhouse, 2021). You can grab a free download of the list here. 
What's so powerful (or magical) about these 109 words?  
Three things really.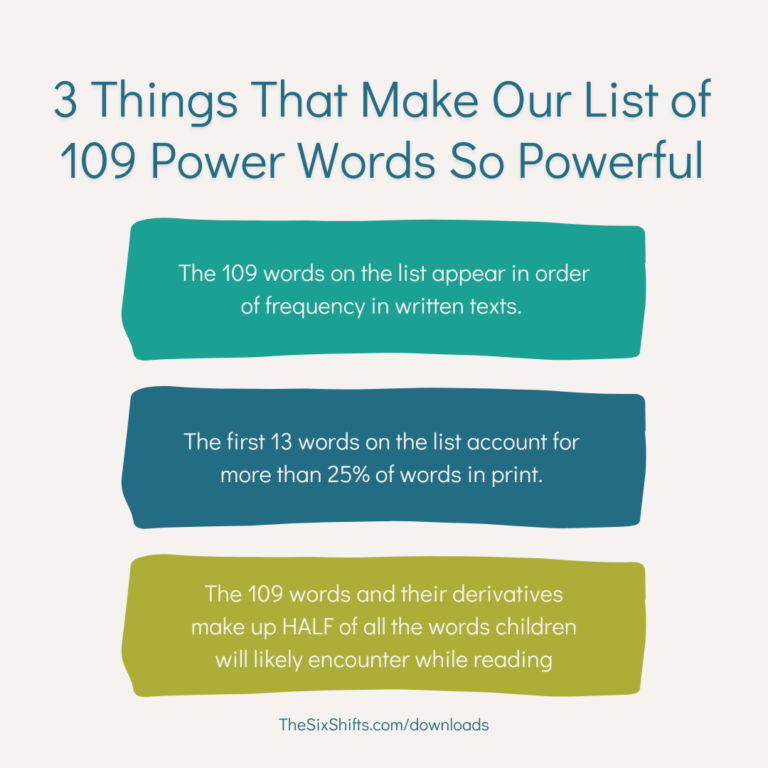 The 109 words on the list appear in order of frequency in written texts.


That means, for instance, that the first word on the list – the little word THE– is THE most common word in written English. Pick up any written text. It won't be long before you encounter the word THE.
The first

13 words

on the list (the word THE and 12 more of its closest friends) 




account for more than 25% of words in print. Yes, you read that right–13 words = 25% of words in print! Just think of the power that knowing these 13 small but mighty words can give beginning readers! We find this incredibly cool. On our list, we placed an asterisk next to each of these 13 words–sort of like giving them a gold star–to make it easy for you to spot them and prioritize them..
As a collective group, these 109 words and their derivatives (i.e. look, looked,




looking, looks) make up HALF of all the words children will likely encounter while reading (Adams 1990; Blevins 2017; Carroll, Davies, and Richman 1971). That's 50% of the words children read! 
But hold on! It gets even better. 
Equipped with these 109 words plus basic phonics knowledge, your students should be able to read 90% of the single-syllable words they encounter in texts (Solity and Vousden 2009). 90%!
And speaking of phonics instruction, another important thing to recognize about this list–or any list of high-frequency words–is that they don't all have to be taught!  Many of the words on this list have completely regular spellings and therefore won't need explicit instruction if you help children become both efficient decoders and strong word mappers (skilled with engaging the in-the-brain process of orthographic mapping). 
This is information you can definitely take to the lesson planning bank to make learning to read easier for your students! 
 Want to learn more about brain-friendly ways to teach high-frequency words?
In our Sight Word Success (SWS) Mini-Course, we teach you all you need to know to make high-frequency words (like these 109) really stick! We also teach a tried-and-true process called WHICH WORDS WHEN, designed to help you prioritize the words and their order for instruction.  
If you're ready to make learning high-frequency words easier for children, we invite you to join us!
Adams, Marilyn J.  1990.  Beginning to read: Thinking and learning about print.  Cambridge, MA: MIT Press.
Blevins, Wiley.  2017.  A Fresh Look at Phonics: Common Causes of Failure and 7 Ingredients for Success. Thousand Oaks, CA: Corwin.
Burkins, Jan, and Kari Yates. 2021. Shifting the Balance: Bringing the Science of Reading into the Balanced Literacy Classroom. Portsmouth, NH: Stenhouse Publishers.
Carroll, John B., Peter Davies, and Barry Richman.  1971.  Word Frequency Book.  Boston: Houghton Mifflin.
Solity, Jonathan and Janet Vousden.  2009.  Real books vs Reading Schemes: A New perspective from Instructional Psychology. Educational Psychology 29(4): 469–511. doi:10.1080/01443410903103657